English Electric Lightning F3 desktop model
56 Squadron RAF
(Lightning model length including pitot tube= 17 inches or 43.2 cm)

Meticulously researched, masterly handcrafted in wood, hand-painted by artists, all intertwined with the most rigorous quality system, has resulted in our small family business setting new standards and leading the field in producing your model. It takes many weeks to complete each model. Nice Airplanes models are not mass-produced, but generally in single custom orders. Nice Airplanes does not keep stocks, nor do we outsource, so order today and consider how impressive the exact airplane you would like would look in your home or office. From armaments to stands we are totally flexible. Accuracy is very important for us which is why many of our customers become avid collectors.


Tiger Moth custom desktop model
G-AOEI

wingspan of 17 inches or 43.2 cm


Believe it or not, Nice Airplanes does not use decals! Some small aerials are made of metal where wood would not be possible to be accurately cut.
From private civilian aircraft such as the Tiger Moth to all squadron aircraft from World War 1, through World War 2 and right up to current day - any air arm - we will make it for you - at a great price too! Helicopters, of course! Our airliners are very accurate indeed. Please do not hesitate to ask for a quote - it only takes a moment or two! For instance, if you would like a VC10, Victor, Vulcan or Jet Provost in a particular squadron or individual aircraft markings just ask, we will make it for you. Historic aeroplanes are made as well and we do not charge outrageous prices for custom made models. Classic aeroplanes such as the Fairey Hendon, Fairey Barracuda, Short Sunderland, Blackburn Beverley, Vickers Valetta, Handley Page Hastings right through to Concorde are a delight for us to make.
If you would like a Flyvevåbnet desktop model, RDAF desktop model, Luftwaffe desktop model, RNoAF desktop model, Ilmavoimat desktop model or Luchtmacht desktop model, let us make it for you. We make custom desktop models and ours are really impressive.
DHC-2 Beaver desktop model
(18 1/4 inch or 46.4 cm wingspan)
From Canadian and Alaskan bush and float planes to historic research and development aircraft
Boulton Paul P.111A desktop model
VP935
Naval aviators and crew will be very pleased we can make very fine examples of US Navy squadron aircraft from World War II, through Korean war, Cuban Missile Crisis, Vietnam to the current day. Of course we like accuracy
McDonnell F-4B Phantom desktop model
VF-21
USS Midway
If you have a favourite type, squadron or aircraft, be it fixed or rotary wing, please let us make it for you. As we make all models in our own workshop, we have full flexibility to ensure total quality.
Lockheed WP-3D Orion desktop model
N42RF
United States Department of Commerce
National Oceanic and Atmospheric Administration (NOAA)
Primarily used for hurricane research, the NOAA WP-3D Orions also tasked with other meteorological, climatological, environmental and atmospheric research.
What can't be seen in the above photo, is the amount of detail we have added, but we have added everything we possibly could have added. If a customer requires N43RF or N44RF instead then we will make the individual aircraft, checking everything.
Percival (Hunting) Pembroke desktop model
60 Squadron
RAF Wildenrath
Cold War
For numerous RAF types please visit the RAF page. For the Fleet Air Arm, will will happily make any Fleet Air Arm aircraft including the Percival (Hunting) Sea Prince. Army Air Corps fixed or rotary wing models can be made. We are often asked whether we can make training aircraft - of course we make them and they are very impressive too!

Our models make very special presents.


de Havilland DH104 Dove desktop model
G-ARBE
Hawker Siddeley Aviation Brough
(Wingspan over 19 3/4 inches or 50.2cm)
We also make de Havilland Devon, Sea Devon, Heron and Sea Heron models.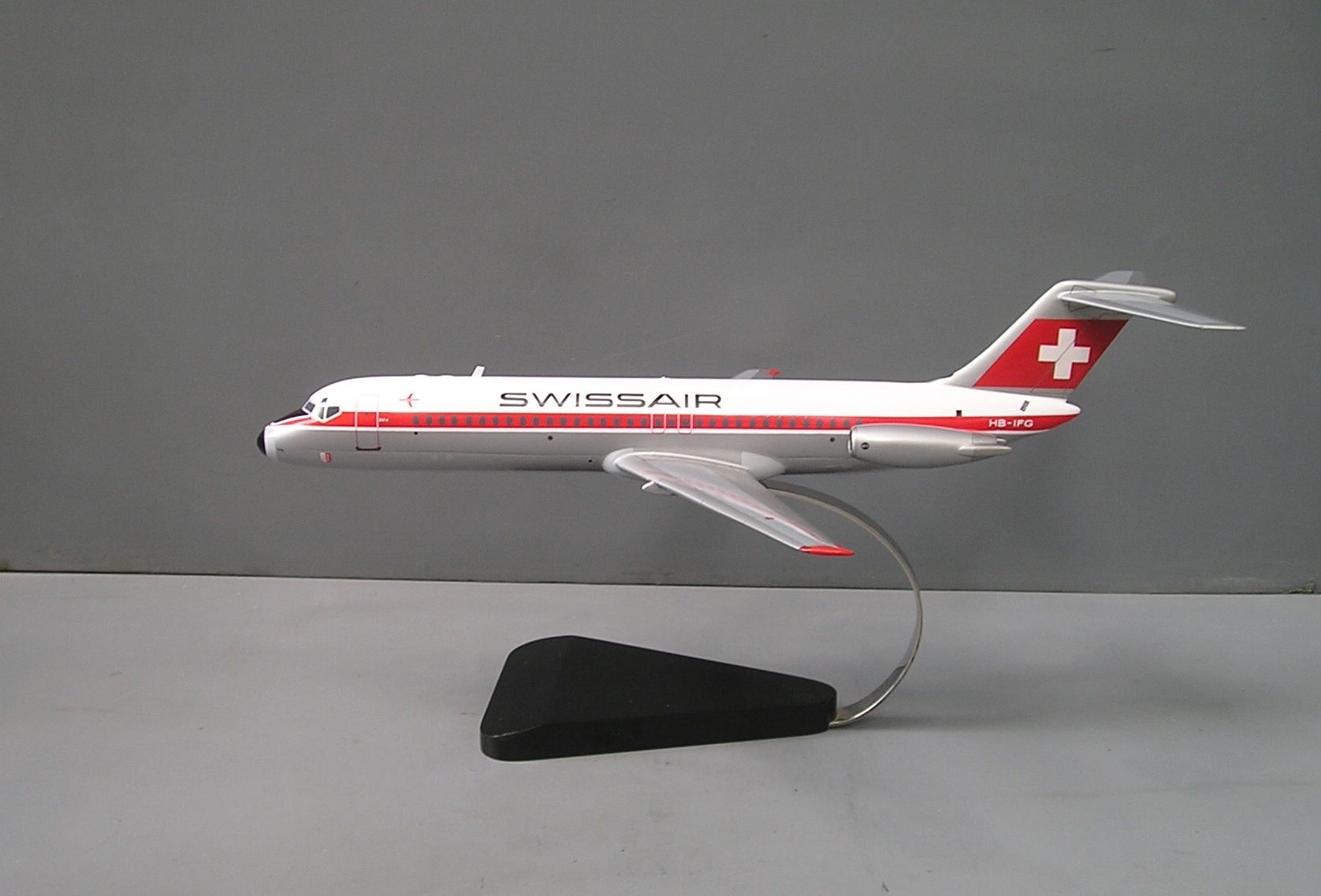 Douglas DC-9 Desktop Model
HB-IFG

Swissair
(Length is 17 inches or 43.2 cm)
Other DC9 operators are indeed possible and we will quite happily make any Swissair desktop model

For current and classic airliners please visit our airliners page via this link Airliners Page

If you would like to go direct to the order form please click on this link;
Nice Airplanes Order Form

Nice Airplanes really does produce nice airplanes and we are immensely proud of each one!
Website Builder